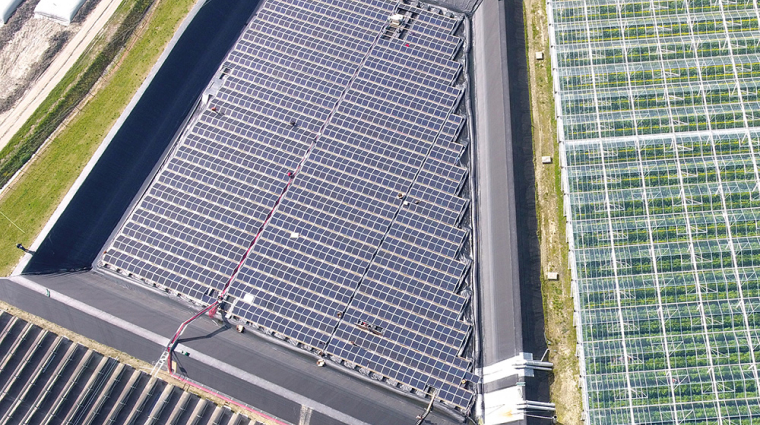 Untapped potential for sustainable energy generation
In the Netherlands, it is estimated that more than a hundred hectares of water basins are located at greenhouse horticulture companies. A large number of these are equipped with an algae cloth to protect the water against algae, vermin and evaporation. In recent years, the question has regularly arisen whether it is not possible to provide the total floating cover for the basin with solar panels. Albers Alligator and Centrica Business Solutions have joined forces and looked at the possibilities together and developed this into a working, innovative solution: the Multi-F Solar system.
Multi-F Solar, the best of two worlds!
A mounting structure is placed on the anchored, floating Multi-F deck of Albers Alligator, on which the solar panels are mounted. The deck consists of floats, between which hangs a bag of water-permeable cloth, which fills with water and acts as ballast. It ensures that the solar panels are not lifted or moved by (extreme) weather conditions. The whole is fully integrated with the water basin and also offers all the properties of a traditional algae cover: preventing algae growth and vermin, and evaporation and contamination of the irrigation water. This solution can be applied to any water basin: new, existing or to be renovated.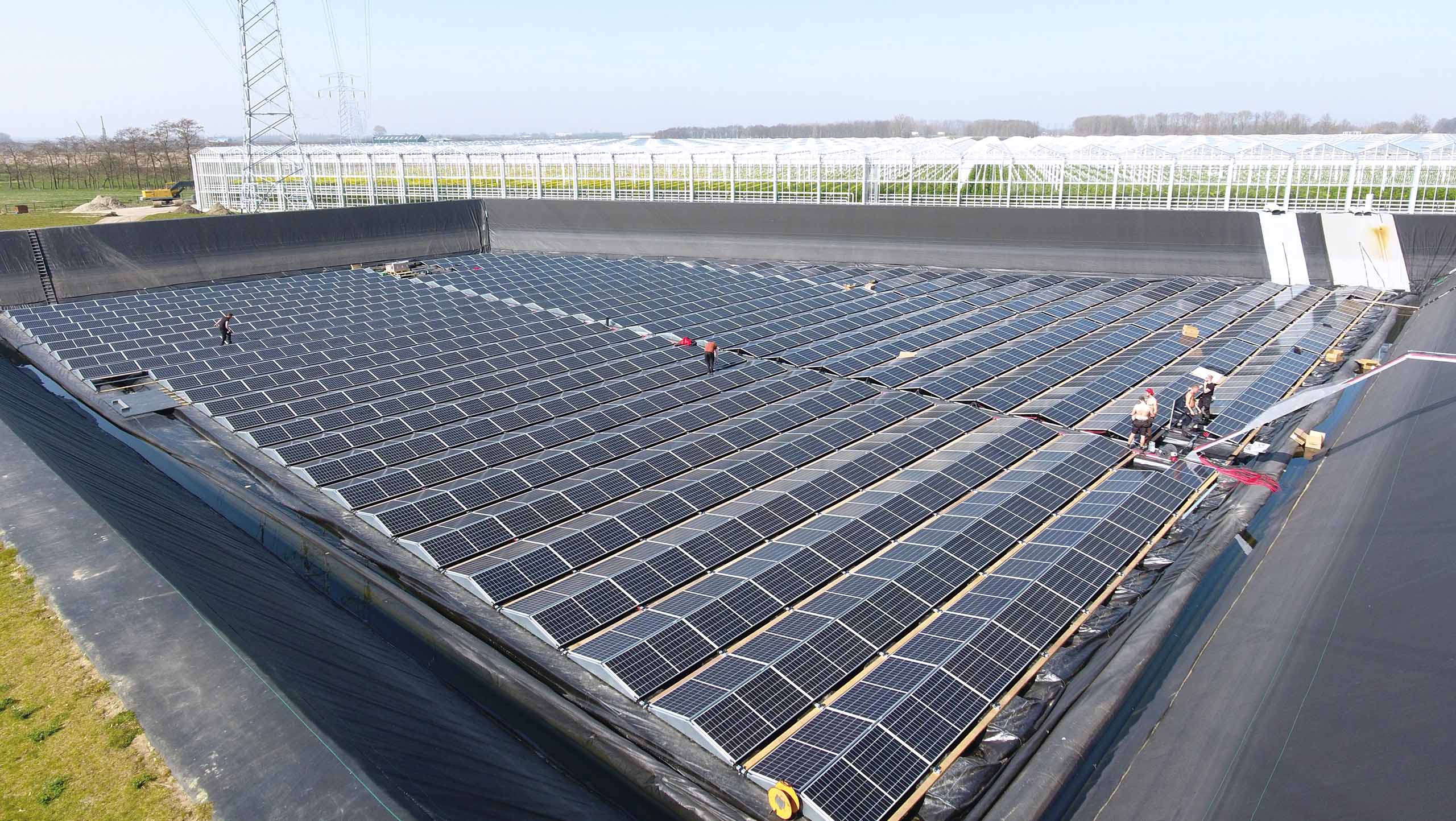 Multi-F Solar in practice
In Kapelle in Zeeland, the first project with Multi-F Solar was realized in 2021 at Kwekerij de Noordhoek, run by Henk and Kees Verhage. Not only did this make full use of the empty surface of the water basin, the solution fitted in perfectly with the vision of sustainability of the organic horticultural company. For example, the heating of the greenhouse is partly provided with solar energy.
A total of 1031 solar panels have been placed on the Multi-F total cover on the water basin of De Noordhoek. Each panel has a capacity of 415Wp, the capacity of the total solar park is 428kWp. The expected energy that will be generated is expected to supply 100 households per year.
We can offer you a suitable Multi-F Solar system for any water basin, existing, renovation or new.
Do you have a question or are you curious about Albers Alligator's products and services? Have an advisor contact you for personalized advice.
Do you have a question or are you curious about Albers Alligator's products and services? Have our advisor contact you or contact us yourself!