Air domes & Special fabric structures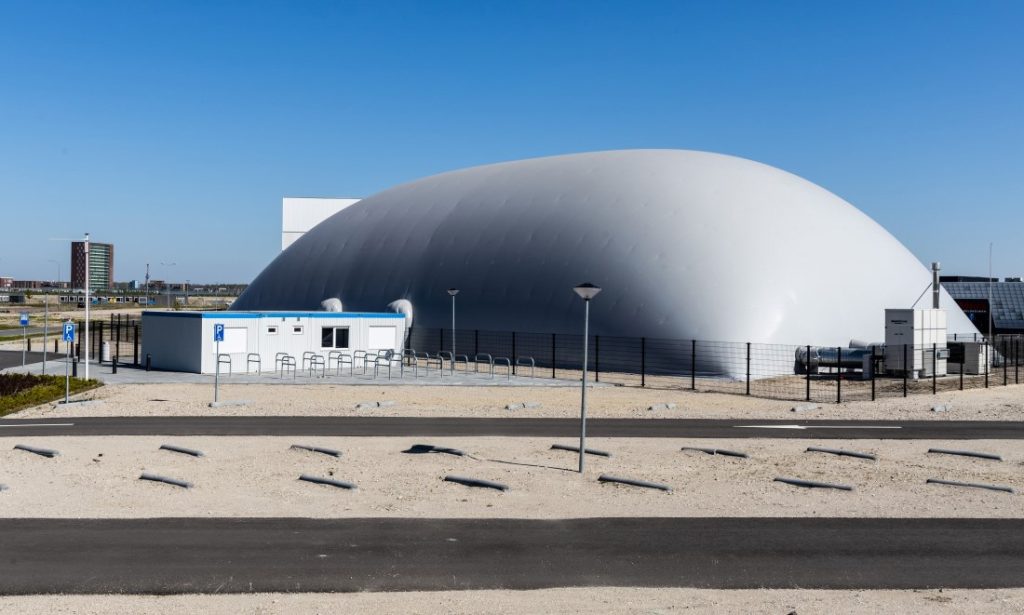 If you need a temporary or permanent sports hall? Or a flexible (temporary) storage of goods? Albers Alligator has been producing and supplying air domes for more than 30 years.
These air domes are mostly used for playing indoor hockey, tennis and as a pool roof. With this temporary accommodation you can continue playing in the cold and wet winter season, while in the summer season the accommodation can be used for outdoor activities.
Principle operation air dome
The principle of an air dome is based on a slight overpressure in a flexible construction (hall skin or membrane). This is then inflated as a balloon. The air dome is anchored in such a way that it is possible to build up a slight overpressure in the hall. This pressure is low (this varies between 150 and 300 Pa) and does not affect the human body. The pressure is sufficient to withstand the pressure of the window. The fan is constantly running to maintain the pressure in the hall. By using sensors for wind and snow, the fan can be controlled to automatically turn harder and thus create more pressure to withstand the higher wind pressure and/or snow load. With an air dome you can therefore enjoy a nice sheltered and heated activity in the winter months.
Our air halls are delivered both single and double layer. By applying an insulation layer, the energy consumption by heating can be significantly reduced. For more information we invite you to contact us.
Special fabric structures
Albers Alligator is expert in the production of special fabric structures. We work together with architects, national and international engineering firms and artists and realise their ideas. We use this method of working to produce stadium roofs and air structures, among other things. These partners challenge us to discover all the technical possibilities of the different materials. We then use them to create unique building structures and constructions. The sky is the limit.
Do you have a question or are you curious about Albers Alligator's products and services? Have our advisor contact you or contact us yourself!